Benefit for the historic Elk Rapids Town Hall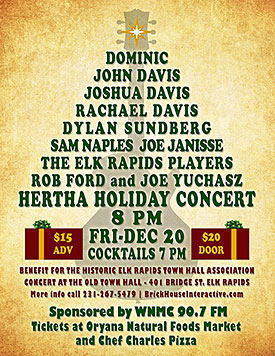 Presenting: Rachael Davis, Joshua Davis, Dominic John Davis, Dylan Sundberg, Sam Naples, Joe Janisse, Joe Yuchasz, emcee Alison Korson, Terry Miller & The ER Players.
Doors open at 7 pm and cocktails will be served.
Tickets can be bought at Chef Charles Pizza in Elk Rapids and Oryana Natural Foods Market in Traverse City, or call 231-267-5479 for more information.
$15 adv or $20 door
301 Bridge St. Elk Rapids, MI
Sponsored by WNMC 90.7 FM